NOTE:  We are still waiting on installed pics from customers so for now all we have is our first hood pics in primer and I added pics of our COPO Style Skorpion hood (which is the same it just does not have heat extractors) so you can see painted pics.

Tired of your boring stock hood?  Do you wish there was a muscular hood to accent the muscular lines of your car?  Ready to add some AGGRESSIVE and FUNCTIONAL styling to your 2016+ Camaro?
Well, we at 6LE Designs have got you covered!  When we brought the IROC-Z back we wanted a hood that looked factory, hence using COPO styling, AND had some IROC-Z heritage inspiration so we added heat extractor "louvers"…  The result, a great looking and extremely FUNCTIONAL hood that drops IATs on average 15 degrees!
We bring you the 6LE Designs IROC-Z hood for 2016+ Camaros!!!
The rear cowl is open to vent heat AND the top of the cowl is shaped to allow the air flowing from the front of the car through the radiator, that normally exits via the vents/nostrils on the SS hood, to continue straight out the back while the louvers allow the heat coming off the exhaust to escape!
The front of the scoop is open and will flow cool air over the intake AND aid in flowing the air coming off the radiator out the back as well.
Careful attention was paid to every single detail… even the RADIUS on every edge and line of the hood MATCHES the RADIUS of the stock car lines.  Simply meaning, this hood was designed on this car, for this car.  There are no odd "sharper" or "duller" lines…
These are 100% MADE IN THE USA!!!!  From design, to mold to finished product all done right here in the United States of America!
And, when you purchase with us, a simple ONE man American based company, not only are you getting the most personal customer service but you're also helping one American family that really LOVES these cars provide for his family as opposed to feeding large corporations that farm jobs overseas for higher profits!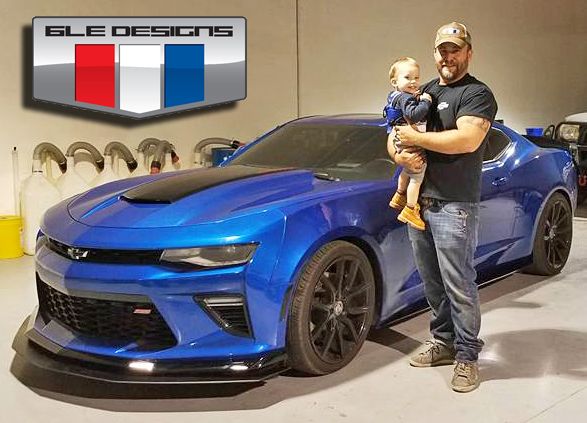 This hood comes in hand-laid fiberglass primed and ready to prep and paint!!!
If you are outside the CON US then feel free to purchase and we'll invoice you the shipping difference OR simply give us a call and can get you an exact quote…
Thanks for looking and thanks for helping us make the world a better place, one muscle car at a time!!!
As with most aftermarket hoods please expect 6-8 weeks for delivery.