NOTE:  These pictures are just of our hood out of mold and the bump that attaches to it.  We've put these on sale in hopes of customers sending back installed photos.  Due to our IROC-Z project, this hood won't fit our car or else I'd have installed pics for you.  The hood you see is FIBERGLASS but this page is for ordering FIBERGLASS with CARBON FIBER scoop.

Tired of your boring stock hood?  Do you wish there was a muscular hood to accent the muscular lines of your car?  Ready to add some AGGRESSIVE and FUNCTIONAL styling to your 2016+ Camaro?
Well, we at 6LE Designs have got you covered!  We loved the look of the GM ZL1 hood but we learned the hard way, as did some of you, it does NOT fit non-ZL1 models.  So, we decided to make one that would…
We bring you the 6LE Designs AgreSSive Hood (ZL1 style) for 2016+ Camaros!!!
The front cowl/hood bump is open to vent heat AND allow the air flowing from the front of the car through the radiator to exit decreasing IATs!
Careful attention was paid to every single detail… even the RADIUS on every edge and line of the hood MATCHES the RADIUS of the stock car lines.  Simply meaning, this hood was designed on this car, for this car.  There are no odd "sharper" or "duller" lines… it's as if GM made a ZL1 style hood for non ZL1 cars.
These are 100% MADE IN THE USA!!!!  From design, to mold to finished product all done right here in the United States of America!
WE TOOK A STOCK METAL SS HOOD AND GRAFTED IN AN OEM ZL1 CENTER  TO MAKE OUR MOLDS.  This means it will fit non-ZL1 cars as good as your OEM hood but will have the OEM ZL1 center lines and bump.
And, when you purchase with us, a simple ONE man American based company, not only are you getting the most personal customer service but you're also helping one American family that really LOVES these cars provide for his family as opposed to feeding large corporations that farm jobs overseas for higher profits!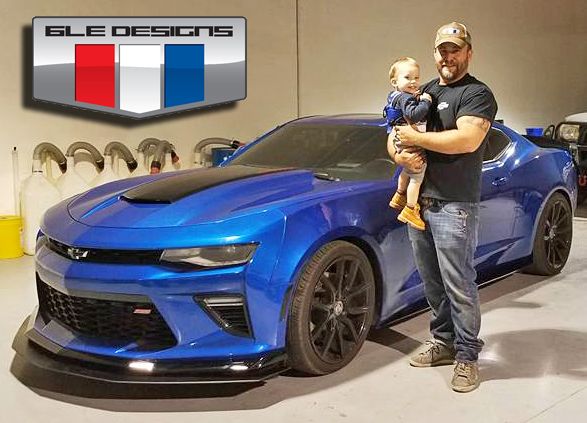 THE ENTIRE HOOD IS CARBON FIBER (not just the bump).  It comes in a Marine Grade UV Clear Coat to protect from yellowing and is hand polished for 3 days before shipped to you.  It's ready to install out of the box, no body work or paint needed!!!  Even the OEM ZL1 Hoods only offer the BUMP in Carbon Fiber, our entire exposed hood is Carbon Fiber.
If you are outside the CON US then feel free to purchase and we'll invoice you the shipping difference OR simply give us a call and can get you an exact quote…
Thanks for looking and thanks for helping us make the world a better place, one muscle car at a time!!!
Ships within 5 to 10 business days